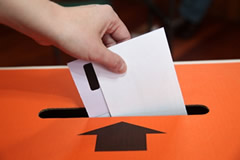 Thank you to everyone who participated in the nominations phase. Award voting is now open! You can register a vote in each category, once per day.
Here are your 2012 TransGuys Community Award Nominees:
Award Voting
Best Blog
This award honors the best blog authored by a trans guy that discusses the FTM experience in one way or another.
---
Best YouTube Channel
This award will be given to a trans male vlogger or vloggers whose YouTube channel is engaging and has garnered a dedicated following. (Note: That doesn't necessarily mean a high number of subscribers.)
---
Best Facebook Page
This award honors the best Facebook Page created by or administered by a transgender man. (If administered by a team, there must be a trans guy on the team to be eligible.) Criteria include quality and depth of content, audience engagement and social influence.
---
Best Community Website
The award for Best Community honors the most helpful and resourceful social network or forum that caters to transgender men. Eligible websites do not have to be dedicated exclusively to trans men, but must have a group or sub-forum that is.
---
Best Resource Website
This award celebrates the highest quality resource website for transgender men. Criteria include quality and depth of content, and website usability.
---
Best Business
This award showcases the best FTM-owned or FTM-targeted business that has an active online presence. Criteria include innovation, integrity, and the quality and usability of the nominees' website.
---
Musician or Music Group of the Year
This award recognizes excellence by a trans male musician or a music group featuring a trans male member.
---
The Phoenix Award for Outstanding Achievement
This special award recognizes outstanding achievement in any area of FTM advocacy, activism, community or health care, online or offline.
Thanks for voting! Tell your friends on Twitter that you voted!
---
For Nominees

Congratulations on your nomination and on your achievements that earned it! Being nominated for a TransGuys Community Award is an opportunity to create buzz for your work, and you're encouraged to campaign for votes. Remember that voting ends on December 7, so it's to your advantage to start promoting your award candidacy right away!