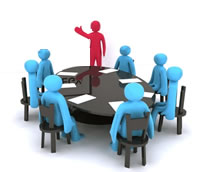 Compared to a decade ago, the trans conference circuit has grown exponentially. These events offer a great opportunity to learn, share and network, and connect with valued mentors and long distance friends. Plus, SRS surgeons often make themselves available for informal conversation as well as free private surgery consultations, making conferences an important stop on the road to surgery.
Each year, the circuit is packed with high quality events and 2014 is no exception. Below you'll find details about the year's upcoming conferences that offer programming for trans men.
Which conferences will YOU be attending?
Conferences at a Glance
| | | |
| --- | --- | --- |
| Conference Name | Location | Dates |
| First Event | Boston, MA | January 22-26 |
| Colorado Gold Rush | Denver, CO | Feb 21-22 |
| TRANSforming Gender Symposium | Boulder, CO | Mar 14-15 |
| Moving Trans* History Forward | Victoria, BC, CA | March 21-23 |
| The Keystone Conference | Harrisburg, PA | March 26-30 |
| Trans*Literate Symposium | New York, NY | March 29-30 |
| Transcending Boundaries | Hartford, CT | April 4-6 |
| Transecting Society | Durham, NH | April 11-12 |
| Transgender Leadership Summit | Northridge, CA | April 11-13 |
| Black Trans Advocacy Conference | Dallas, TX | April 29 – May 4 |
| Writing Trans Genres | Winnipeg, MB, CA | May 22-24 |
| TransOhio | Columbus, OH | May 30 – June 1 |
| Philadelphia Trans-Health Conference | Philadelphia, PA | June 12-14 |
| Conference for Transgender Men | Mandaluyong, PH | June 14 |
| Texas Transgender NonDiscrimination Summit | Houston, TX | Aug 8-9 |
| Gender Odyssey | Seattle, WA | Aug 14-17 |
| Southern Comfort | Atlanta, GA | Sept 3-7 |
| FTM Fitness World | Atlanta, GA | Oct 2-4 |
| Transgender Spectrum Conference | St. Louis, MO | Nov 21-22 |
Money Saving Tip: Note that many of the conferences have early bird discounts available. Register early to save on your expenses! Several conferences also offer scholarships and work trades!
2014 Confirmed Conferences
First Event – 34th Annual!
First Event is one of the largest transgender conferences, welcoming everyone from the transgender community and our supporters: cross-dressers, transsexuals, intersex individuals, M2Fs, F2Ms, and their significant others are all welcome.
When: January 22-26, 2014
Where: Boston, MA
Cost: $40 single day passes, $210-$230 complete conference packages.
Colorado Gold Rush –  16th Annual!
Hosted by the Gender Identity Center of Colorado, Gold Rush features three days of workshops covering a wide array of topics of interest for trans identified folks, plus a clinical track for students and providers.
When: February 21-22, 2014
Where: Denver, Colorado
Cost: FREE for workshops, $60 to attend Saturday Banquet
TRANSforming Gender Symposium – 8th Annual!
Sponsored by the Women and Gender Studies program and the GLBTQ Resource Center at the University of Colorado at Boulder, the symposium hosts national and local transgender and genderqueer activists to address issues surrounding transgender, genderqueer and related identities. Previous presenters and participants have included academics, health professionals, community organizers, performance and visual artists, students, faculty, staff, youth, family members, community members and other interested folks.
When: March 14-15, 2014
Where: Boulder, CO
Cost: FREE registration
Moving Trans* History Forward
A symposium to bring together people working with transgender archival materials to exchange ideas and information, develop linkages, and increase our effectiveness in gathering and disseminating the history of trans* research and activism. Held at the University of Victoria, the symposium will feature over two days of panel discussions, keynote speakers, exhibitions, and screenings devoted to the acquisition, preservation, and access of trans* history and archival materials.
When: March 21-23, 2014
Where: Victoria, BC, Canada
Cost: $80-$270
The Keystone Conference – 6th Annual!
Hosted by TransCentralPA, Keystone features meaningful workshop and seminar programming, plus numerous social functions. Recent years have seen significantly expanded trans masculine and youth programming. Continuing Education credits will be offered for select workshops.
When: March 26-30, 2014
Where: Harrisburg, Pennsylvania
Cost: $20-$40 for day passes, $50-$110 for conference & lunch packages, $90-$180 for conference, lunch & evening packages. Early bird discounts available!
Trans*Literate Symposium
Designed to educate, inform, and expand dialogue on the topic of working clinically with the transgender communities and understanding transgender experienced through psychoanalytic theory. Mental health clinicians are invited to submit proposals for workshops, papers, and presentations on the topic of how issues related to trans* experience has informed complicated, and illuminated their work in individual, group, and family clinical practice.
When: March 29-30, 2014
Where: New York, NY
Cost: $50-$200
Transcending Boundaries
This annual conference brings together sexuality, relationship and gender minorities for three days of education, activism and community building. This year's theme is "Inclusion In Action." The weekend event includes workshops, discussion groups, social events and a community meal with a keynote address by Wintersong Tashlin.
When: April 4-6, 2014
Where: Hartford, CT
Cost: Early Bird $60-65 until March 5
Transecting Society
This 2-day symposium is dedicated to exploring controversial political topics related to trans* lives in contemporary U.S. All interested in rendering visible the oppression and agency of trans* people and in envisioning the advancement of our civil rights, human rights, and collective liberation are welcome.
When: April 11-12, 2014
Where: Durham, NH
Cost: FREE registration
Transgender Leadership Summit – 8th Annual!
This one-of-a-kind leadership conference builds the foundation for community members to take action for transgender equality and justice through informative workshops ranging in topics from legal, health care, organizational development and much more.
When: April 11-13, 2014
Where: Northridge, CA
Cost: $10-$100 Sliding scale
Black Trans Advocacy Conference
Now in its 3rd year, the Black Transmen Advocacy Conference is dedicated to increasing the value of the human experience and the transformation of men into catalyst for social, political and economic change. Meet, unite, discuss, learn and celebrate.
When: April 29 – May 4, 2014
Where: Dallas, TX
Cost: FREE to registered guests with photo ID
Writing Trans Genres
This conference is an invitation to writers, performers, critics, scholars, activists and community members to participate in developing critical contexts for reading and interpreting an emerging body of literature by transgender, transsexual, two spirit and genderqueer writers, on two spirit, trans, and genderqueer terms.
When: May 22-24, 2014
Where: Winnipeg, MB, CanadaCost: Some sessions free, $10-$120 sliding scale.
TransOhio Transgender & Ally Conference – 6th Annual!
More than 70 workshops covering a variety of topics including health and safety, sex and sexuality, legal and employment issues, religion and spirituality, and culture, media and the arts. Friday is Provider's Day for therapists, social workers, and lawyers earning continuing education units.
When: May 30 – June 1
Where: Columbus, OH
Cost: TBD. Scholarships available.
Philadelphia Trans-Health Conference – 13th Annual!
The PTHC focuses on the specific issues, needs, and experiences of trans-identified individuals with regard to the health of body, mind, spirit, and community. Everyone concerned about these issues is welcome to attend, including but not limited to: members of the transgender and gender-variant communities, partners, family members, allies, and service providers. Attendance has grown exponentially in recent years and programming has greatly expanded.
When: June 12-14, 2014
Where: Philadelphia, Pennsylvania
Cost: FREE
Conference for Transgender Men – 1st!
The goal of the conference is to break barriers, set aside differences and create a long term agenda of peace and mutual cooperation between the PinoyFTM (PFTM) and Association of Transgender Men of the Philippines (ATMP)—a milestone for the transgender rights movement in the Philippines.
When: June 14, 2014
Where: Mandaluyong, PH
Cost: ?
Texas Transgender NonDiscrimination Summit – 6th Annual!
The Texas Transgender Nondiscrimination Summit invites interested parties in higher education to discuss what works and what does not work in regards to codifying inclusion of "gender identity and expression" into institutional policy.
When: August 8-9, 2014
Where: Houston, TX
Cost: FREE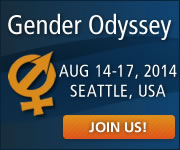 Gender Odyssey – 13th Annual!
Gender Odyssey is an international conference focused on the needs and interests of transgender and gender variant people, with a particular focus on the trans masculine experience. This one-of-a-kind annual gathering is packed with thought-provoking workshops, discussion groups, social events and entertainment. Exclusive programming for POC, teens, genderqueer, partners and more. Gender Odyssey also produces two concurrent events: Gender Odyssey Family, for families raising gender variant and transgender children; and the Gender Odyssey Professional for providers.
When: August 14-17, 2014 (GO Pro Aug 13-14)
Where: Seattle, WA
Cost: $150-$280 sliding scale, early bird discount and scholarships available.
Southern Comfort Conference – 24th Annual!
Workshop topics include basic information for the newbie, the newly-out, as well as the transitioned, plus detailed legal, medical and political presentations; informative sessions on family relationships, sexuality and spirituality; and tips on makeup, presenting, and much more. Other highlights include entertainment, provocative speakers, lunches, dinners and social evenings, and plenty of options for shopping, dining, and entertainment in downtown Atlanta.
When: September 3-7, 2014
Where: Atlanta, GA
Cost: Packages from $130-$310.
FTM Fitness World Conference
First of its kind conference where everyone is a VIP! Perks include: FREE lunch, breakfast, afternoon snacks, refreshments and dinner; FREE raffle tickets; bodybuilding competition; FREE health fair; other FREE activities like a morning boot camp, yoga, fitness assessments, massages, meal planning, speed dating, self-defense, ballroom dancing and more; workshops.
When: October 2- 4, 2014
Where: Atlanta, GA
Cost: $180
Transgender Spectrum Conference
An interdisciplinary event dedicated to educating participants about a wide range of transgender issues. It includes workshops for adults, youth, families, and allies and features strands in health and aging, youth and families, policy and politics, and teaching and learning.
When: November 21-22, 2014
Where: St. Louis, MO
Cost: TBD
2014 Conferences – Dates TBD
The Empire Conference
Put on by TransEvents USA, the Empire Conference serves those who identify as transgender, crossdresser, transsexual, transvestite, FTM, MTF, SOFFAs, providers, students and educators. The conference provides informative workshops and skill sharing sessions. Other highlights include networking and socializing, a health fair, special outings and entertainment.
When: April
Where: Albany, New York
Cost: n/a
National Transgender Health Summit
The NTHS aims to provide a multidisciplinary program presenting cutting edge research in transgender health and evidence-based clinical training curricula for healthcare providers of all backgrounds. CEUs, CMEs, and UCSF course credit offered.
When: May
Where: Oakland, CA
Cost: n/a
Trans Youth Summit & Parents of Trans Youth Summit
At the summit, youth will have the opportunity to share ideas, learn about their legal rights, learn about the larger transgender community, participate in workshops and fun activities. There will be a separate track with a full day of programming for parents and/or guardians of transgender and/or gender questioning youth. Parents/Guardians activities include such areas as: addressing legal issues and advocating for your child, health care, and time for networking and guided support groups.
When: July
Where: Cambridge, MA
Cost: FREE
Minnesota Trans Health Conference
MTHC encourages a wide range of topics in regards to gender identity, race, ethnicity, gender role, family make-up, sexual orientation, ability, culture, and class.
When: October
Where: St. Paul, MN
Cost: n/a
Trans* Wellness Conference
TWC focuses on the health needs of transgender and genderqueer people. Registration is free! The Conference has something for everyone, whether you identify as trans*, an ally, or as a medical / social service professional.
When: October
Where: Buffalo, NY
Cost: n/a
Genderevolution
TransAction's annual gender conference is the pinnacle event of a month full of trans-awareness events in Salt Lake City. This year's theme is Community Building Community.
When: November
Where: Salt Lake City, UT
Cost: n/a
Trans* Wellness & Wellbeing Conference
This new annual conference was founded by people of transgender experience for people of transgender experience and allies, with the goal of presenting workshops that speak to the wellness and the well being of our community.
When: November
Where: Los Angeles, CA
Cost: FREE
2014 Trans Conference Map

Put this map on your website or blog.
Last updated: May 8, 2014

Do you know of other conferences for trans men, particularly international events? Please add them in the comments area below!