As we move through our lives, redefining boundaries, bodies and our relationship to literally everything around us, we would be lost without the guidance of those who walked this road before us and walk with us now. Leslie Feinberg and Jacob Nash are two American transgender warriors who have helped cut a path for trans people today.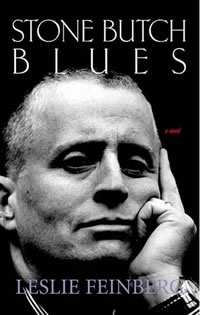 Leslie Feinberg is one of the most easily recognized names in transgender literature. Feinberg released hir first novel, Stone Butch Blues in 1993. Ze tells the fictional tale of a female-to-male transgender person during the time of the Stonewall Riots, the catalyst of the LGBT rights movement. With hir imagery and thick emotion, Feinberg yanks readers' eyelids open and hurls them face-first into the pain and danger of the period.
"Stone Butch Blues' certainty lives with that emotional truth that many trans people here – transsexual, transgender, drag and intersexual – live with day in and day out," ze said in an interview with Julie Peters in Screaming Hyena.
Stone Butch Blues had a profound impact on me. It came highly recommended from a transgender friend in California during a strained period of my life. I wasn't on hormones yet, though I'd started the ball rolling. I'd just moved back to my hometown and was getting cold feet about transitioning. At one particularly violent point in the story, I put the book down and started to cry, realizing that this was how transgender people had to live. I had come so close to giving in to fear, but I felt that giving up would be equivalent to spitting on the graves of those who died cutting out a place for me in society.
In hir 1997 book Transgender Warriors: Making History from Joan of Arc to Dennis Rodman, Feinberg says,
"We have not always been forced to pass, to go underground, in order to work and live. We have a right to live openly and proudly…when our lives are suppressed, everyone is denied an understanding of the rich diversity of sex and gender expression and experience that exist in human society." [emphasis added]
I still haven't mustered the guts to finish Stone Butch Blues, but I haven't gone into hiding, either.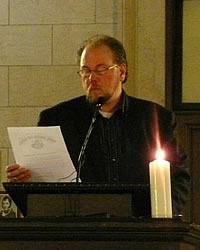 One person that has been making bold strides for the transgender community in Northeast Ohio is Jacob Nash.
In 2002, Nash, a female-to-male transsexual, and his intended wife, Erin Barr were denied a marriage license in the state of Ohio. Nash was born in the state of Massachusetts. In 1998, after moving to Ohio, he petitioned for a name change to Jacob Benjamin Nash. He was granted his name change and, following gender reassignment surgery, had his birth certificate corrected, designating him male. The court found that such a marriage does not meet the criteria for a lawful marriage in the state of Ohio.
Nash said that he and Barr felt the need to fight even though they weren't granted a marriage license.
"The marriage case propelled the transgender community to the forefront," said Nash.
Nash has become deeply involved in the transgender community in the last 10 years. Currently, he works with GLSEN – the Gay, Lesbian and Straight Education Network, speaking in Northeast Ohio schools such as The University of Akron, Kent State University and Case Western Reserve University. He is an advisor for the Ohio Domestic Violence Network on transgender individuals as well as advising and training individuals at children services throughout the state, primarily Summit County. He volunteers for the Human Rights Campaign and moderates the TransAlive support groups. In addition, he is the first transgender member of the North Coast Men's Chorus.
Nash's current endeavor is starting up a transitional living facility in Akron, Ohio called Margie's Hope. He said that he wants to help his community find direction. One way to do this is through helping homeless transgender people get back on their feet and find secure work where they are protected under a company's anti-discrimination policy.
In his words,
"I don't care how the work gets done as long as it gets done. And we have to keep doing it until it's no longer needed, and hopefully that day is soon."
We've come a long way from Stonewall, but we still have far to go. Our history proclaims that we are loud and proud and out, and we are not backing down.
Who are the transgender warriors that inspire you? Leave your comments below!