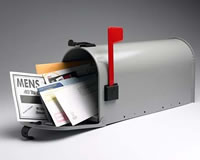 Stacked up against Twitter and forums and social networks, mailing lists seem pretty old school. However, the appeal of the simple text format and direct delivery of mailing lists remains strong. If you're looking to connect with other trans-positive folks and get support around transition-related issues, there's surely a trans mailing list for you. Part 3 of TransGuys' Finding Community Online series highlights a selection of mailing lists for trans men and their supporters.
While this list is extensive it's by no means complete. If you know of other helpful trans-positive mailing lists for the guys, please share by leaving a comment below.
Also see:
Article Contents:
1. Mailing Lists for Transgender Men (Guys Only)
a) General FTM Mailing Lists
b) Local Mailing Lists (North America / International)
c) Surgery and Health Mailing Lists
2. Mailing Lists for Transgender Men and SOFFAs
a) General FTM Mailing Lists
b) Faith-based Mailing Lists
3. Transgender (FTM, MTF) and SOFFAs Mailing Lists
4. SOFFAs Mailing Lists
5. Currently Inactive Mailing Lists
6. Mailing List Etiquette
1. Mailing Lists for Transgender Men (Guys Only)
a) General FTM Mailing Lists
Trans Guys
This is a place for Trans Guys (FTM, FTX, MTM, genderqueer, etc.) to come together and talk about Trans issues, meet other Trans guys, and discuss life in general. Note: This list is not affiliated with TransGuys.com.
FTM Early Transitioning
This group is for persons who are in the female-to-male transitioning process, particularly the early stages when much is happening and much is still unresolved. Men who are farther along in transition are welcome, also, so that we may have the benefit of your experience.
Greenboys
This is a list for those born female-bodied or intersexed at birth, who embody some sort of masculine gender expression which may include but is not limited to: ftm's, butches, tomboys, genderqueers, tg, daddies, etc.
TMaleB2B – The T-Male Brother to BBS Transmen Group
A group associated with The Transitional Male website (T-Male) who have been part of the T-Male Brother to Brother Support Bulletin Board.
POC Transition
This group caters to the special needs of members of the POC-FTM community. This group is dedicated to sustaining discussions needed as one moves forward with plans for T, Top surgery, meta, phallo, and post-op outcomes.
b) Local Mailing Lists

View Local Mailing Lists for Transgender Men in a larger map
North America
Vancouver Guys
Vanguys is a local British Columbia list for FTMs and FTM-questioning.
VanIslandudes
Vanislandudes is a listserve for male-identified transmen on Vancouver Island, BC, with occasional meetups in Victoria.
Fairfield County Transmasculine Society
For people who were born or assigned female at birth and feel that this is an inaccurate and/or incomplete gender identity. Connecticut Transmen, FtMs, genderqueer, butch, stud, gender neutral, third-gendered, AG, intersexed, gender questioning, gender variant, boy dykes–this group is for you.
FTMinKY
Discussion and information list for FTMs and guys born intersexed, living or working in and around the state of Kentucky.
SeaBoyz
Discussion and announcement list for the Seattle area FTM community.
Tarheel Transmen
Social support organization for the FTM community in North Carolina.
Diego Boyz
Resource for the San Diego County FTM communitity (i.e. transitioned and transitioning transsexual men, transmen, transmales). Includes announcements for local events and news relevant to the San Diego County transmale and broader trans communities, as well as a discussion forum for local community issues.
Alamo Boyz
FTM, Female to Male transsexual, transgendered in Texas. An online and real life peer support group. We welcome FTMs from all over Texas to join and contribute to the growing network of information from FTMs for FTMs.
St. Louis MO FTMs
A space for FtM's, Transmen, and those questioning to talk about anything and everything, in the St. Louis, MO region. This is a place for support, and friendship.
SDFTM-SO
The San Diego Chapter of FTM (Female-to-Male) International welcomes FTMs or gender questioning individuals assigned female at birth, who feel that gender assignment is no longer complete or accurate. The group has monthly support meetings and monthly social gatherings for allies and significant others.
ABQ FTM Group
This group is a online communications board for the real life transmen support group in Albuquerque, NM.
DCATS – [Washington] DC Area Transmasculine Society
Listserve and monthly meetings, general support, local medical care references.
International
FTM UK
The UK FTM network is an informal list, open to all UK based female to male (FTM)transgender and transsexual people, or those exploring this aspect of their gender.
Transmen Scotland
Support group for all female to male transmen, transgender and transsexual people. The group is based in Scotland and meets monthly in Edinburgh and Glasgow. Membership is open to all female to male trans people in Scotland.
FTM Sveriges öppna grupp
Sweden's FTM transgender group.
New Zealand Transguys
Discussion and contact group for people born or living in Aotearoa/New Zealand, assigned "female" or "intersex" at birth, but who identify outside of that, including but not limited to: transgender, transsexual, ftm, f2m, tangata ira tane, mtm, male, taane, genderqueer, trannyboy, transman, 3rd gender, bi-gendered etc.
FTM Brasil
An informal discussion group open to all Brazilians who identify themselves as trans men (FTM transsexuals) or are exploring this aspect of their identity.
c) Surgery and Health Mailing Lists
FTM Surgery Info
An extensive resource for info, photos, research regarding surgery options for Female-to-Male transgendered persons. (Note: Surgeons are also on this list.)
FTM Surgery Support
FTM Surgery Support is a companion group to the FTM Surgery Info group. FTM Surgery Support offers open discussion of emotional, physical, psychological and financial issues facing FtM (Female to Male) transgendered / transsexual / transman / ftm / masculine identified / questioning individuals who are considering, undergoing, or have completed any FTM surgery.
FTM Metoidioplasty
This is a peer to peer discussion group on metoidioplasty procedures for FTMs.
FTM Phalloplasty Info
This is a peer to peer discussion group on phalloplasty procedures for FTMs. Welcome to all FTMs who are seriously considering phalloplasty surgery, as well as those who have completed a phalloplasty.
The Deciding Line
This group is a safe space for guys of trans experience to discuss choosing between a metoidioplasty, phalloplasty, meta then phallo and or other procedures.
Meltzer Support
This is a support group for patients of Toby Meltzer, MD. If you are interested in having surgery with Dr. Meltzer, this is the group for you.
FTM Fit
This is a place for FTMs, transmen, and anyone on the transmasculine spectrum to discuss fitness and nutrition. Working out and eating right can go a long way in making your transition a successful and healthy one!
2. Mailing Lists for Transgender Men and SOFFAs
a) General FTM Mailing Lists
FTM-trans (Yahoo!)
Founded in March 1999, FtM-trans is the oldest general-topic FtM peer support forum online. FtM-trans is now run by a team representing FTMInternational and FTMAustralia. Offering assistance, fellowship and info to FtM/MtM male-spectrum, transgendered, transsexual, intersexed, genderqueer and questioning individuals in a safe and supportive environment. Teen and untransitioned FtMs welcome; trans-identified Butches and Drag Kings welcome; questioning or genderless persons on the FtM-spectrum welcome; SOFFAS (family and friends of listmembers) welcome.
FTM Trans (Google)
This group is for all people who may fit under the umbrella term of FTM (female to male), or anyone assigned female at birth and does not identify that way, Any FTM, ally, or questioning person may join. The purpose of this community is for support/questions/etc.
Transmen
This is a support group for transmen, including FtM, female to male identified folks and the SOs that love them. Friends, family members, those allied with the transgender/transsexual community, professionals, are all welcome.
FTM Boi's
A place for FTM's and SOFFA'S (significant others, friends, family, and allies) to talk about transition and the effects it has on the body, and relationships with others.
FTM Personals II
This group is created by and for FTMs and admirers. Anyone on the FTM spectrum (Boi, FTM, F2M, M2M, Transman, Genderqueer, TG Butch, etc) those who would like to date them can post a personal ad of any length. Non-FTMs are especially welcome!
FTM and SOFFA
This is a new list as of May 2010 providing online support for FTMs and their SOFFAs.
Florida Transguys
Regional contact list for transmen (FTMs) and SOFFAs in Florida and surrounding area, regardless of transition or questioning status.
MN Boyz
Support and networking for female-to-male transexuals, male-IDed or alternatively gendered female bodied, intersex, and SOFFAs in the Minneapolis-St Paul and Greater Minnesota area.
Bay Area Boyz
The BABOYZ mailing list serves the FTM/SOFFA communities of the San Francisco Bay Area in California by providing an announcement board for local events and for legal news relevant to trans* communities, as well as a discussion forum for local community issues.
Transmen Asia
Support group for Asians Transmen (FtM) their Significant Other (SOs).
FTMI Ohio
FTMI chapter providing outreach and advocacy for FTMs, SOFFAs and all female to male's on the gender variant spectrum in Ohio. This Yahoo! Group exists as a discussion forum for the business of the FTM-I_Ohio chapter.
b) Faith-based Mailing Lists
Jewish FTM
Jewish awareness, Jewish identity, Judaism and Jewish spirituality for transmen, transgender male, transitioning, ts, f-to-m, ftm, f2m, mtm, tg, third gender and intersex individuals, partners and family members. A moderated, safe and respectful community for spiritual support and growth.
TransJews
Transgendered(TG)/Transsexual(TS)/Genderqueer Jews and SOFFAs list. Discussing how Judaism affects our gender experiences and vice-versa. All levels of observance, backgrounds and viewpoints welcome.
emergence – For Christian Transsexuals
This is a discussion list for Christians who happen to be transsexual to discuss the challenges that face us as we try to serve God.
TranSpirituality
Spirituality for transmen, transgender male, transitioning, ts, f-to-m, ftm, f2m, mtm, tg, third gender and intersex individuals, partners and family members. A moderated, safe and respectful community for spiritual support and growth. Your faith and your journey are honored here.
3. Transgender (FTM, MTF) and SOFFAs Mailing Lists
Greater Boston Transgender Community
Serving the CD/FTM/GQ/GV/MTF/TG/TS/TV community of greater Boston, Northeastern Massachusetts (MA), and southern New Hampshire (NH). This list is for announcements, chat, and coordination of area events with a transgendered focus. Membership is open to all trans-supportive persons.
Southern Arizona Gender Alliance (SAGA) Chat
SAGA organizes educational, social, and support programs for transgender, transsexual, and gender-variant people and their allies in Southern Arizona.
Southern Comfort Conference Lounge
The Southern Comfort Conference, held each year in Atlanta, is the largest convention for transgendered people in the world. For a week each September, hundreds of kindred spirits attend-to meet, share, experience and enjoy the company of others. This list is dedicated to anyone who has attended a SCC, or who is thinking about going (you should!) It's a place to keep in touch, to make plans, to share pictures and experiences, etc. Ride sharing, room shares, general questions or requests are welcome. It's open to any adult who identifies themselves as gender different-TG, TS, TV, CD, MtF, FtM-or significant others.
TG POC
Discussion-oriented listserv for Trans People of Color as well as our significant others and allies.
EthnicFTM
EthnicFtM offers a space where members are free to discuss general FtM concerns, as well as all concerns specific to the Ethnic and Religious minorities that we belong to. Respectful SOFFAs, friends and health care providers are welcome.
Genderqueer Revolution
Online discussion group for a national organization dedicated to empowering people of all genders, helping people to embrace the gift of gender, supporting and cultivating genderqueer, gender-gifted individuals and communities.
Trans Natural
Community resource for information about herbs, nutrition, and holistic health for trans/genderqueer folks and those who love them.
TGV Advocacy
Discussion group for political, social and cultural advocacy and issues affecting transgender, transsexual, intersex and all other gender variant people. It's also a forum for discussion about articles that have appeared in the "transgendernews" Yahoo! Group.
Canadian Transexuals Fight For Rights (CTFFR)
This list is a source for transgender-related news stories.
Trans Action Canada
A group dedicated to the health, welfare and legal/justice issues of the Canadian trans community. Note: Lots of forwards and cross posts with the CTFFR list.
Transgender Michigan
Founded in 1997, TransGender Michigan is dedicated to improving the lives of transgender individuals in Michigan. Our goal is "To strive for social justice and equality for transgender individuals and significant others, family, friends, and allies (SOFFAs) through education, support and advocacy."
Trans Inclusiveness GA & FL
Trans Inclusiveness FL & GA is a discussion and social group established to provide a safe location for transsexuals (FTM & MTF), gender benders and allies to receive support and incouragement as each one makes the journey along this path who live in Florida and GA.
Trans* & GenderQueer Parenting
This is a community for parents and prospective parents who are transgender, transsexual, gender variant or genderqueer. We pass no judgment on peoples' gender identities. If you are FTM, MTF, genderqueer, butch, a cross-dresser, etc., or the partner of someone who is trans, you are welcome to join this group.
TransFamily Couples
Offers support, discussions, and news for transgendered individuals and/or their spouses and committed partners.
4. SOFFAs Mailing Lists
FTMSOs
This list is for SO's of transgendered persons on the masculine end of the gender spectrum. This generally means SO's of FTM's/Transmen or those considering transition. Here, SO's can talk about our own issues and get support from others. This list is open to SOs with *ANY* gender or sexual orientation or background.
SOs, Friends, Family and Allies of FTMs
Group for SOFFAs or Significant Others, Friends, Family of FTMs. FtMs and other trans folk welcome.
The Womens Circle – Peaceful Sisterly Support and Rapport
This list is a safe and flame-free space for past, present and future women partners/lovers/girlfriends of FtMs (female-to-male TG or TS spectrum or questioning persons) to exchange advice, offer support and discuss the intricacies of life with an FtM in an atmosphere of privacy and security.
Women Partners of FTMs
This list is a safe space for women who are in relationships with FTMs and female-bodied people who are questioning their gender identity and expression.
AFLOAT
For "Allies, Friends, Loved Ones, and Tribe," the partners, parents, children, families, and friends of FTMs. Find support and discussion unique to your experiences and needs.
TransFamily Spouses
Offers support, discussions, and news for spouses and partners of transgendered individuals.
Parents of FTM Transsexuals
This group is designed to give space and a forum to parents of FTM Transsexuals. If your daughter has come to you and disclosed that she is wanting to become a man, this is your place. No matter what stage of transition your child may be in, you're welcome to join in. Hopefully, this will be a safe haven for you to vent and console, connect and find relief that you are not alone.
5. Currently Inactive Mailing Lists
6. Mailing List Etiquette
When participating in any mailing list, please remember to:
Pay attention to the list guidelines: Each list has its own set of guidelines that are typically emailed to you when you join. Read and abide by these guidelines.
Search the archives: Before posting a new question to the list, do a search of the archives to see if the topic has come up before. You might find just what you need!
Be constructive: Before posting, consider the value you are adding to the list. Avoid getting personal. Always keep your cool and respond with respect.
Trim your posts: This is even more important now because many people read mailing lists on mobile devices.
Do you know of other mailing lists that should be listed here? Please share the mailing list name and link with your comment below.
Last updated: July 26, 2010