UPDATE, October 11: Congratulations to our winner, toby2s!
Well, I buried her in a picture frame
The dust grows thick now upon her name
But I love her still the same
And there ain't no one to blame
But I'll never be the same
– Ingrid Elizabeth, "Picture Frame", recorded by Coyote Grace on Ear To The Ground, MILE AFTER MILE Records, 2009.
TransGuys.com is pleased to offer a special giveaway contest featuring folk favorites, Coyote Grace. You're invited to enter to win a free autographed CD of their second studio recording, Ear To The Ground. Read below for contest details!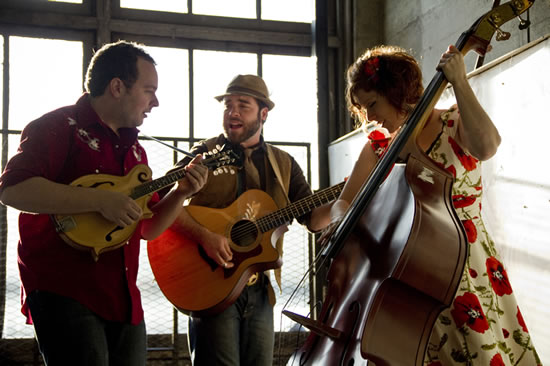 About Coyote Grace
Armed with a bevy of acoustic instruments from guitar and upright bass to banjo, mandolin, fiddle, and accordion, Coyote Grace's Joe Stevens, Ingrid Elizabeth and Michael Connolly mix bluegrass and blues, soul and Southern twang into a unique sound that's complimented by a warm and engaging stage presence. Coyote Grace has shared the stage with such folk icons as Indigo Girls, Melissa Ferrick, Cris Williamson, and Lowen & Navarro. They fill the seats at colleges, festivals, conferences, coffeehouses, pubs, house concerts, farmers markets, and community centers all around the United States.
Spring 2009 ushered in the release of Ear to the Ground, Coyote Grace's sophomore studio album. They display a striking musical maturation from their debut effort, filling out the sound with fiddle, mandolin, guitar, keys, and drums. Ingrid shows a stronger songwriting and vocal presence on ETTG, while Joe continues to wear his heart on his sleeve with his thoughtfully penned lyrics.
"Coyote Grace plays with the heart of traditional country and Americana music, but tells their stories with a bold twist.  They write heart-wrenching melodies and make such textured harmonies that I find myself enraptured and taken by their timelessness of song." – Amy Ray (Indigo Girls)
TransGuys.com readers will be familiar with Joe, who was featured in our groundbreaking article, Testosterone and the Trans Male Singing Voice. Joe has been an important role model and has graciously lent his support to trans men from around the world who have come to him for advice about singing and testosterone.
We tracked down Coyote Grace at a performance in Seattle and asked them to autograph a copy of Ear To The Ground that we could giveaway to one lucky reader. Here's your chance!
How to Enter
Entering the contest is easy! There are two ways to enter. Choose one:
1. Coyote Grace are ultra photogenic! Post a direct link to a great photo of Coyote Grace in the comment section below, and you're in!
OR, if you use twitter…
2. Show some love! Tweet the status below, and you're in!
I ♥ Coyote Grace! @coyotegrace @transguys #TransGuysGiveaway

— Joshua Riverdale (@transguys) September 22, 2012
Good luck!!
Be sure to check out Coyote Grace online:
Contest Rules
Registration Deadline: October 9, 2012. Drawing will be held on or about October 10, 2012.
Prizes: One (1) winner will receive one (1) CD of Ear To The Ground, autographed by Joe and Ingrid.
Eligibility: Entries much be received between 12:00 p.m. PST on September 21, 2012 and 11:59:59 p.m. PST October 9, 2012 ("Contest Period"). Only one (1) entry per person/email address; entries with duplicate email addresses or multiple entries using different email addresses for a single individual will be disqualified.
Selection of Winner: Winner will be determined by a random draw conducted by TransGuys.com on or about October 10, 2012 (from among eligible entries submitted during the Contest Period). Winner will be notified by e-mail or tweet on or about October 10, 2012. Odds of winning depend on the number of eligible entries received.