UPDATE, 09/20/12 – Congratulations to our three winners: Evan Rafuse, Jaye, and Xavier. Enjoy the book!!
TransGuys.com and the editors of Letters For My Brothers, Zander Keig & Megan Rohrer, have teamed up to offer a special giveaway contest in conjunction with our recently published review of the book, Letters For My Brothers: Transitional Wisdom in Retrospect (Wilgefortis, 2011).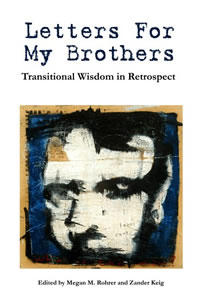 You're invited to enter to win a free copy of this excellent book! Check out our review, then head back to this page to enter the contest.
How to Enter
Entering the contest is easy! Simply post a comment below, giving your past (or future) self some transitional advice. What do you wish you knew about transition back then? Or, what wise words do you want to remember about your transition years from now?
Good luck!
Contest Rules
Registration Deadline: 9/18/12. Drawings will be held on 9/19/12.
Prizes: Three (3) lucky winner(s) will each receive one (1) paperback copy of the book, Letters For My Brothers: Transitional Wisdom in Retrospect.
Eligibility: Worldwide entries accepted. Entries must be received between 12:00 p.m. PST on 9/4/12 and 11:59:59 p.m. PST 9/18/12 ("Contest Period"). Only one (1) entry per person/email address; entries with duplicate email addresses or multiple entries using different email addresses for a single individual will count as one entry.
Selection of Winners: Winners will be selected by Zander Keig based on their entry comment on or about 9/19/12 (from among eligible entries submitted during the Contest Period). Winners will be notified by e-mail on or about 9/20/12. Odds of winning depend on the number of eligible entries received.