UPDATE, 12/26/09: Congratulations to our winners!
TransGuys.com and Lola.Jake have teamed up to giveaway TWO Billy packers!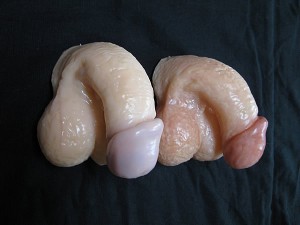 Billy is a premium prosthetic made from Lola.Jake's blend of five platinum silicone materials. Billy is the heavyweight of packers, measuring 5″ in length and 4.5″ in girth, and weighing in at 9.25 oz. The glans is large with a prominent ridge, and the balls are substantial and round. Billy has a hand painted glans, and the shaft is also subtly detailed with veins. Billy is priced at $195 USD.
There are three ways to enter:
Leave a comment below and tell us why you want a Lola.Jake Billy packer! (ps. Make sure you enter a real email address so that we can get in touch if you win!)
Twitter: Tweet this to Enter!
@transguys I want a Lola.Jake Billy packer! https://transguys.com/u/billy #lolajakebilly
(ps. Your tweet MUST include the #lolajakebilly hashtag!)
Good luck!
And don't forget to check out The Packer Showdown. We reviewed The Packy, Mr. Right and Lola.Jake's David.
Contest Rules
Registration Deadline: December 15, 2009. Drawing will be held on December 22, 2009.
Prizes: Two (2) winners will each receive one (1) Billy model packer made by Lola.Jake.
Eligibility: Entries much be received between 12:00 p.m. PST on November 29, 2009 and 11:59:59 p.m. PST December 15, 2009 ("Contest Period"). Only one (1) entry per person/email address; entries with duplicate email addresses or multiple entries using different email addresses for a single individual will count as one entry.
Selection of Winner: Winner will be randomly selected by TransGuys.com on or about December 22, 2009 (from among eligible entries submitted during the Contest Period). Winner will be notified by e-mail, Twitter reply, or YouTube message (depending on how the entry was submitted) on or about December 22, 2009. Odds of winning depend on the number of eligible entries received.