Coinciding with Cervical Health Awareness Month, Robert Eads Day on January 17 honors the memory of Robert Eads and raises awareness for preventative care and early detection of cancer and HPV in trans men.
The Story of Robert Eads
Robert Eads (December 18, 1945 – January 17, 1999) was a trans man from Toccoa, Georgia, whose life and death was the subject of the award-winning documentary Southern Comfort (2001). Eads transitioned later in life and was advised not to seek hysterectomy due to his age. He was diagnosed with ovarian cancer in 1996 and more than a dozen doctors refused to treat him fearing that taking him on as a patient might harm their practice. When he was finally accepted for treatment in 1997 the cancer had "already metastasized to other parts of the body, rendering any further treatments futile." Robert Eads died on January 17, 1999.
I wish I could understand why they did what they did, why they had to feel that way… And I know in a way they've contributed to my dying here. But I can't hate them. I don't hate them. I feel sorry for them… What makes me most sad is they probably felt like they did the right thing. – Robert Eads in Southern Comfort
Hurdles Accessing Care
While it's difficult to gauge the prevalence of individuals with stories like that of Robert Eads, we do know that trans people in the U.S. report serious hurdles to accessing health care:
19% report having no health insurance, compared to 15% of the general population.
Transgender people of color are even more unlikely to be completely uninsured: 31% of black transgender respondents report having no insurance of any kind.
41% of transgender people reported postponing medical care when sick or injured because of an inability to pay; but that was not the only reason trans folk don't seek care when they need it:
28% postponed care because they feared being met with anti-trans bias in the healthcare setting.
More specifically, many trans men avoid seeking or cannot access preventive care because of discrimination from health care providers and insurance plans, likely putting them at greater risk of developing cervical cancer.
According to the National Transgender Discrimination Survey, nearly half (48%) of trans men reported postponing or avoiding preventive care out of fear of discrimination and disrespect. One in five trans men also reported being refused health care because of their gender identity. – NCTE
We also know that trans men have over 10 times higher odds of having an inadequate Pap test compared to female patients, and that they have longer latency to follow-up testing. Furthermore, it can be challenging to get interpretable results from Pap tests done on trans men:
Pap tests are important for FTM patients but it can be challenging to obtain interpretable results. More information is needed on the effects of testosterone on the cervix and effective cervical screening strategies that do not rely on a Pap test. While we wait for results of studies that address these questions clinicians should do everything possible to increase patient comfort during the exam and alert FTM patients that repeat Pap testing may be necessary after an initial, inadequate result. – Dr. Potter, Director of Women's Health at Fenway Health
Fortunately, things are changing:
HPV and Cervical Cancer: What Trans Guys Need To Know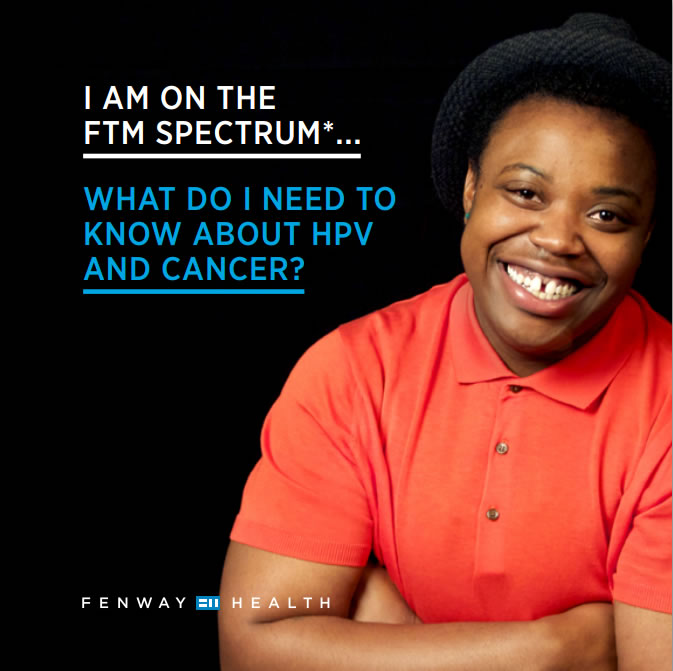 Download this PDF guide from Fenway Health
Trans men are at risk of developing cervical cancer even if they do not have penetrative sex. The major cause of cervical cancer, the Human Papillomavirus (HPV), is transmitted through genital skin-to-skin contact with anyone who has the virus. This includes oral sex, sex with fingers or hands, genital rubbing, and sex with toys. Note that using condoms, gloves, and other barriers reduces but does not eliminate the risk of transmitting HPV and other infections.
Cervical cancer screenings prevent cancer and save lives.
Do I Need a Pap Test?
| | | |
| --- | --- | --- |
| I Have/Had a… | Age | Frequency |
| Cervix | 21*-65 | every 3 years |
| Cervix | over 30 | every 5 years, with HPV test |
| Hysterectomy that left cervix partially or completely intact | 21*-65 | every 3 years |
| Cervix removed, with history of cervical cancer, precancerous conditions, HPV infection or immune suppression | 21*-65 | vaginal vault or cuff smears every 3 years until 3 normal tests in a row |
| Cervix removed, with no history of cancerous or precancerous cervical cells | – | not required |
| Colpectomy or colpocleisis | – | cannot have a Pap test |
Sources: National Center for Transgender Equality and Canadian Cancer Society
*The U.S. Preventive Services Task Force and the Society of Obstetricians and Gynecologists of Canada both recommend that Pap tests start at age 21. The Canadian Task Force on Preventive Health Care, which issued national guidelines in January 2013, advises that Pap tests are not needed until the age of 25.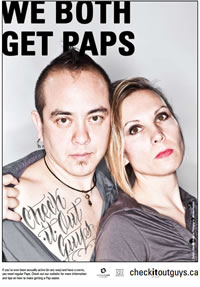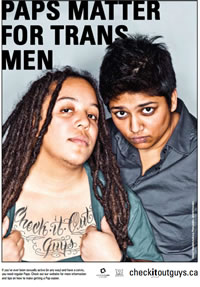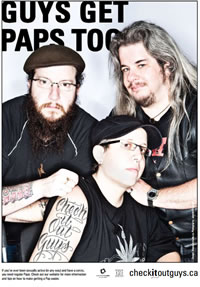 Posters from the Check It Out Guys campaign.
Robert Eads was denied medical care in the United States just 19 years ago. His story is a tragic reminder to trans men to take charge of their health, as well as a call to action to the medical community to fight against trans discrimination in health care and to improve the accessibility of preventative care and early detection of cancer and HPV in trans populations.
More Resources:
Editor's Note: According to Southern Comfort director Kate Davis, a town in rural Japan has also celebrated a "Robert Eads Day."