Whether it's locker room woes, lack of funds, or lack of accessibility, there are a number of reasons that can keep a trans guy out of the gym. However, not having a gym membership doesn't have to keep you from getting and staying fit! There are plenty of body weight exercises that you can do anywhere, and home workouts that require very little, if any, fitness equipment. If you need a little motivation and a few pointers to help get you started, check out the resources below.
You Are Your Own Gym: The Bible of Bodyweight Exercises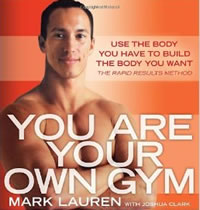 From Mark Lauren, an elite Special Operations physical trainer, comes an ingeniously simple, results-driven, do-anywhere program for getting into great shape. The exercises require nothing more than the resistance of your own body weight and just thirty minutes a day, four times a week—in your living room, yard, garage, or just about anywhere else. You'll build muscle, burn more fat than aerobics, and develop balance, stability and core strength. Gym memberships and infomercial contraptions are poor substitutes for the world's most advanced fitness machine: your own body.
50 Bodyweight Exercises You Can Do Anywhere
The Advanced No-Gym Body-weight Workout
Scooby's Home Workouts YouTube channel and website.
The 16 Most Effective Fat Loss Moves – No Equipment Required
Need some motivation? Check out Oliwer's awesome video!