Matt Kailey was a pioneering author, blogger, activist, and nationally recognized speaker on transgender issues. Born in 1955 in Omaha, Nebraska, Kailey transitioned in 1997 at the age of 42 and identified as a gay trans man.
After a career as a social worker, Kailey started writing for Out Front Colorado, one of the country's oldest LGBT publications. He became the highest profile trans journalist in the country when he was named Out Front's managing editor in 2007.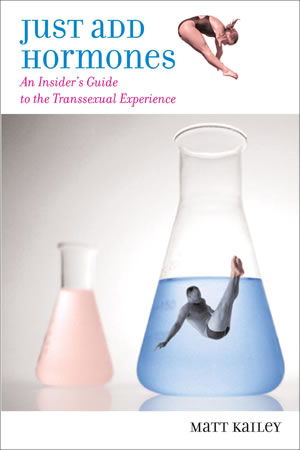 During his time at Out Front, he authored the book Just Add Hormones: An Insider's Guide to the Transsexual Experience (2005), a Lambda Literary Award finalist.
He also maintained the award-winning blog, Tranifesto. Its Ask Matt column became a primary online destination for people seeking advice and knowledge from the transmasculine perspective. In 2010, Kailey wrote the Transgender & Transsexual Issues column for Examiner.com.
Teeny Weenies and Other Short Subjects, a collection of essays about his life before and after transition, was published in 2012.
His writing also appeared in numerous anthologies and professional journals.
In addition to speaking at national conferences, appearing on local and national radio and television, and offering workplace training on transgender issues, Kailey also taught courses in psychology, human sexuality, and transgender studies at Red Rocks Community College and Metropolitan State University of Denver.
"Matt was a remarkable part of our faculty at MSU Denver, teaching both our Introduction to Transgender Studies and Queer Sexualities and Identity courses," said his MSU colleague Katherine Miller. "To honor his legacy at our institute and celebrate his writing, we are dedicating a part of our library to his memory with selections under the heading Queer Studies."
Not one to rest on his accomplishments, Kailey was also featured in five transgender documentaries, including Call Me Malcolm (2005.)
Kailey died in his sleep of heart failure on Sunday, May 18, 2014. The announcement came from his sister:
I wanted to let you know that Matt Kailey, my brother, has passed away. He died of heart failure in his sleep Saturday night/early Sunday morning. His untimely and unexpected passing has been a shock. With the help of family and friends, I am currently working on processing this tragedy and making arrangements. I will post more information at a later time. Thank you for being Matt's friends.
Understandably, the trans community reacted with shock and grief, but also expressed great appreciation for Kailey's advocacy work and friendship:
There are few souls who walk this earth who are willing to risk everything to stand up for what is right and help others. Matt was one of those people. With humor, sensitivity and compassion, he became a beacon of hope for the trans community, particularly young people who felt comfortable turning to him. – Denise Kodi

For some reason, Matt was meant to truly "go out at his peak." He was meant live on more as a "legend," which tends to happen when tragically early deaths happen such as his. It's almost like he was meant to give his life to the transgender cause, to spreading education and awareness to millions of people around the world, and for many years to come. – Dara Hoffman-Fox

He was such a good guy, so sweet, so caring, and so not into the arguments and infighting and all the rest. I have to say it's almost too hard to believe right now, but Matt, we will miss your voice of reason and that kind, kind face of yours. – Helen Boyd
For those of us who didn't know Kailey, we can still appreciate the magnitude of his contributions to the North American transgender community through the wise words he left behind for us:
SB: Do you have any words of encouragement or advice to young people who are coming out as trans, or for those whose experiences mirror yours, and they didn't come out until later in life – do you have anything you'd like to say to them?

MK: What I'd say to young people, specifically, is that you're going to change the world. You're going to change how our world views gender, how it views sexual orientation, how it views people that are different. And so it may seem difficult or impossible, because you're still struggling under the same constraints that all of us have throughout our life in this world. You're still struggling with a male-female gender binary system, but you are the ones that are going to change it. And that's why it's so important for you to come out as who you are. Because that's how you can change it.

You have to remember to be safe, and you have to also remember that once you come out, it's extremely difficult to go back in, so choose your timing wisely. But by being who you are, you're helping people. People who aren't even born yet – they won't have to suffer the same prejudice and discrimination that we're still suffering. So that's what I would say to young people.

What I would say to anybody – young, old, whatever – is that being trans is fraught with peril. However, being authentic is probably the most important thing you can do. It's the best you can feel.

You get one life – this is it. You can regret and moan and groan the fact that you're trans, and that's the one life that you get. Why it happened doesn't matter. Why it happened to you doesn't matter. The fact is that it did, you are. So what are you going to do about it? Are you going to bemoan it and be unhappy and miserable, or are you going to embrace it as who and what you are, and change the world with it.

Being trans may not be a choice, but you certainly have a choice about what you do with your transformation.
"I like to think that trans people will be the catalysts for a cultural shift that will result in everyone's liberation."
–  Matt Kailey, Teenie Weenies And Other Short Subjects