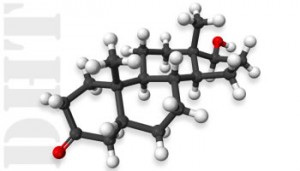 Dihydrotestosterone (DHT) is a metabolite of testosterone that's recommended by some SRS surgeons to encourage genital growth in transgender men. DHT can be topically applied in a transdermal cream, but is not to be confused with testosterone cream or testogel/androgel. DHT is at least three times more potent as an androgenic compound and is therefore the preferred choice for FTM genital growth.
DHT plays a vital role in virilization. When a trans man injects testosterone, his body converts some of it into DHT. It influences facial and body hair growth, voice changes, sex drive, and growth of muscle and genital tissue. Unlike other androgens, DHT cannot be converted to estradiol, and it's not anabolic, so it doesn't build up in tissues, muscles and bones.
DHT for Dick Growth
For genital growth, a 10% DHT concentration, non-alcoholic cream is desired. A typical dosage is 20 mg administered three times a day. Rub the cream onto the glans, shaft and foreskin; it absorbs quickly. A typical length of treatment is three months.
Topical DHT shouldn't drastically affect blood pressure or testosterone levels, but it may be a good idea to get blood work done while you're using DHT. Observe your moods and adjust your testosterone dosage if required.
Getting a Prescription for DHT
To get a prescription for DHT, ask your doctor or endocrinologist for "10% Dihydrotestosterone cream." If they grant your request, take the prescription to a compounding pharmacy. Be sure to specify that the cream should not contain any alcohol.
In North America, DHT had been available to compounding pharmacies through the PCCA. In July 2009, the PCCA announced that they were out of stock and that the manufacturer had ceased production of DHT. It's unknown if there are other sources available. It's very difficult, if not impossible, to get a prescription for DHT filled in North America at this time.
Buying DHT Online
You can buy a 2.5% DHT gel called Andractim online and without a prescription. However, this product is alcohol based and may cause a temporary burning sensation. It's also important to note that DHT is a Schedule III Controlled Substance. In North America, it's illegal to import DHT. Purchase at your own risk. If you do buy DHT online, check off "female" for gender on the order form, otherwise you'll be required to purchase a prostate test kit.
Side Effects of DHT
Hair Loss
Despite being responsible for facial and body hair growth, one of the potential side effects of DHT is hair loss. DHT leaves a waxy substance at the root of hair follicles on the scalp that can inhibit hair growth. One possible solution is saw palmetto berry extract tincture, a natural herb that's been shown to block DHT. The tincture can be mixed with water and topically applied to the scalp to prevent that build up in the hair follicle roots. Dosage is 30-60 drops daily. A one month supply of saw palmetto tincture costs about $25 USD.
Secondary Exposure
Like Androgel, DHT cream presents a risk of transference and requires diligence to prevent accidental secondary exposure to sexual partners, children, and pets. Washing well 1 hour after application reduces—but does not eliminate—chance of exposure. The only safe form of protection is zero exposure.
DHT Research
While there aren't any clinical studies about DHT and transgender men, we can look to related studies for some guidance, particularly with regard to safety.
Transdermal dihydrotestosterone therapy and its effects on patients with microphallus.
All patients demonstrated growth of the penis during treatment. The mean increase rate (153%) in the first 4 weeks of treatment was higher than that (118%) of the second 4 weeks… In conclusion, transdermal dihydrotestosterone therapy is an effective and relatively safe modality in the treatment of microphallus.
A Double-Blind, Placebo-Controlled, Randomized Clinical Trial of Transdermal Dihydrotestosterone Gel on Muscular Strength, Mobility, and Quality of Life in Older Men with Partial Androgen Deficiency
We conclude that 3 months treatment with transdermal dihydrotestosterone gel demonstrates expected androgenic effects, short-term safety, and limited improvement in lower limb muscle strength but no change in physical functioning or cognitive function.
Long-term transdermal dihydrotestosterone therapy: effects on pituitary gonadal axis and plasma lipoproteins.
…percutaneous DHT administration is a relatively safe modality of androgen replacement therapy as far as atherogenicity is concerned.
Absorption of dihydrotestosterone (DHT) after its intramuscular administration.
…suitable for long-term substitution therapy.
DHT offers trans men the potential for genital growth that exceeds the promises of testosterone therapy alone. While dedicated research is lacking, related studies and anecdotal accounts suggest that DHT is a safe and promising treatment.