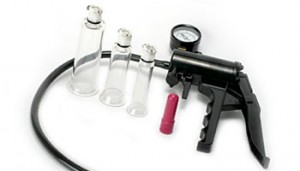 Does pumping work? Yes! There are numerous accounts of trans guys who have increased the size of their penis with a daily regimen of pumping. However, success with pumping depends on a high level of commitment and patience. For best results, pump twice a day, morning and night.
Measure Up
To measure the length of your penis, hold it straight out from your body and measure from base to tip. To measure the girth of your penis, wrap a soft tape measure around it to get a circumference measurement, or wrap a piece of string then measure that length against a ruler.
Cylinder Selection
Select a cylinder twice as long as your flaccid penis, and about 50% more in girth. (Example: If your penis is 1″ long and 1/2″ in diameter, then use a 2″ long, 3/4″ diameter cylinder.)
Warm Up and Get Pumped
Warm up by wrapping your penis in a warm towel for a few minutes. Simultaneously, soak the cylinder in hot water.
Dry everything off, then amply apply lube to your penis, as well as a small amount to the inside of the cylinder.
Position the cylinder to ensure a good fit and seal.
Pump to five pounds. Keep the pump on for as long as it takes for your penis to become fully engorged.
This shouldn't cause pain or fill the cylinder completely. Check yourself frequently to make sure you're not blistering or bruising badly (slight bruising is OK.) If you're experiencing any pain, blistering or significant bruising, disengage the cylinder immediately. These symptoms aren't the sign of permanent damage but you will need to take a week or so off pumping to heal up.
Advanced Pumping
Once you're comfortable with basic pumping, you can experiment with increasing the pressure on the pump to achieve more length. Take a cautious approach, always being aware of any pain and bruising.
If you have a second, larger cylinder, you can try the Two Stage Pumping Method: complete the basic pumping technique, then increase the pressure to 15 lbs, disengage the smaller cylinder and attach the larger one.
Where to Buy Pumps
TransGuys Enhancer Pump Kit
Excellent 5-star package for just $98 USD. Includes high quality pump with pressure gauge, 3 cylinders, and bonus bullet vibe.
Videos About FTM Pumping