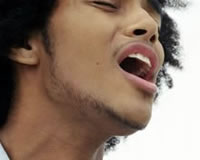 One of the most desired effects of testosterone by trans men is a deepening of the voice, a change that's helpful when moving through the world as a man. However, there's an uncertainty to voice changes: testosterone doesn't always drop the pitch low enough, and the changed voice can be persistently hoarse and weak. This can cause both personal and professional difficulties, but for singers, the "unpredictable and irreversible"1 nature of testosterone's effects on the voice is a terrifying prospect. The loss of singing ability is not inevitable though, and there are strategies for easing the transition of the FTM singing voice. Read on to learn more.
---
One of my biggest misgivings about starting on testosterone was my singing voice. Beginning as a teenager, I'd performed professionally as a vocalist and guitarist for more than 10 years. Singing was as fundamental to my identity as gender. Would it have to be sacrificed at the expense of transition?
In Body Alchemy: Transsexual Portraits by Loren Cameron, there's a portrait of author and educator, Jamison Green. He's posed with a hand drum, and in the accompanying text he explains that he lost his singing voice once he started hormone therapy.2 Here was one of the most visible trans men admitting one of my greatest fears about testosterone! It wasn't encouraging, so I set out to find some stories that were.
A Guy Named Joe Stevens

The first sign of hope I found was in Joe Stevens of the queer folk duo, Coyote Grace. Listening to Joe's smooth, high lonesome vocal on "A Guy Named Joe" was clear indication to me that there could indeed be singing after T. Check it out:
Joshua Klipp
By the time I found Joshua Klipp in late 2007, his music had already been featured on television and radio across the United States. His song "Little Girl" gained instant notoriety not only due to Joshua's powerful performance, but also because it marked the first time in music industry history that a song featured a trans man's pre-T voice alongside his testosterone-changed voice. Watch his video for "L1FE":
Simon de Voil
Scottish folk singer Simon de Voil was the subject of the feature documentary Funny Kinda Guy. The film follows Simon through his early transition as he "irreversibly sacrifices his female singing voice to hormone treatment."3 Although he couldn't sing confidently for three years, Simon says that since then his new voice has "really grown into itself."4
Clearly, it's possible for trans men to continue to sing after starting HRT, whether that's around a camp fire with friends or on stages around the world. While there's a serious lack of research in this area, we can look to the science of voice for guidance about how to ease FTM vocal transition.
How Testosterone Affects the Larynx
The larynx, or voice box, is a hormone-dependent organ. In teenage boys, increased testosterone production causes the vocal folds (vocal chords) to thicken, lengthen and mature. The cartilage of the larynx grows, further influencing the tone of voice. It also tilts slightly, resulting in a bump on the throat—the Adam's Apple. This is a process that happens over time as the teen matures.
Trans men conversely, are often started on the highest recommended dose of testosterone, bringing about changes that would normally occur over several years in a much shorter time. Testosterone therapy makes the vocal folds grow thicker but they are restricted in length by the size of the larynx (which is typically smaller in trans men than in cis gender men.) Cartilage growth is said to only happen during puberty5, and early cartilage ossification caused by testosterone further limits the growth of the trans male larynx.
In college I got a Bachelor of Music Vocal Performance as a mezzo-soprano. I lived and breathed being a mezzo-soprano, and felt incredibly safe in my voice. [After] about 3 months on testosterone, I basically couldn't sing. My range had been reduced to about an octave, and the quality was tinny, crackly, and sort of rusty sounding. There was a grinding that had been created by my cords thickening from the testosterone, and my articulation in my coloratura was gone as well.
I became pretty deeply depressed for awhile, because I actually thought I wouldn't be able to sing again. Many people had told me not to start testosterone, and at this point I was wondering if maybe they had been right. Maybe I shouldn't have risked my singing career. In my heart though, I knew that that just wasn't an option. I had to push through and make the best of it.
Between 3-6 months on testosterone was when I started to get some semblance of a singing voice back. I was able to sing some songs, but there was a persistent airiness to the voice that hadn't been there before. After 6 months on testosterone my singing voice got progressively better and more stable, but very slowly.
Something particular that doesn't necessarily have to do with the voice, but with identity, is my shift from mezzo-soprano repertoire to tenor repertoire. I am now a tenor who knows nothing about being a tenor, and who previously didn't give a rat's ass about tenors. I have a weird and in-depth knowledge of mezzo-soprano roles and singers, which I often have to explain because it is truly nothing a tenor would normally care about. — Holden Madagame, The Transgender Opera Singer: from Mezzo to Tenor
In his groundbreaking study however, Alexandros Constansis revealed that his 39-year old larynx had indeed grown wider within the first year of HRT.6 Working with a group of FTM singers, Constansis noted that the most common characteristic among study participants was what he called "entrapped vocality."7 The symptoms—persistent hoarseness and the inability to access and control certain areas of vocal range—were attributed to an inadequately enlarged larynx, due to age and the early onset of laryngeal cartilage ossification. (In some people, this ossification actually improves their singing voice, as the "hardened" larynx is better able to support the vocal folds.)
A professional singer himself, Constansis approached his own HRT conservatively, opting for a low starting dose that was gradually increased over a one year period. He reasoned that "abrupt changes are rarely beneficial to the vocal instrument"8 and suggested that the vocal difficulties experienced by teenage boys could only be aggravated in trans men due to the quickened hormonal changes.
It took about 3 years for my voice to finally settle where it is now. During those years there were several times when I thought 'Okay, this is my new voice', and then it would continue to change in subtle ways. I sang professionally for years pre-T and I still sing professionally now. I don't have quite the range & sustainability that I once had, but anything I lost, I gained in terms of finally being able to own and identify with my voice now. I have no regrets! — Radford Bishop
Recommendations for Trans Male Singers
Throughout his paper, Constansis advocates that trans male singers who are starting testosterone proceed slowly, beginning with a low dose that's gradually increased over time. While this is likely to slow virilization, it also produces more gentle changes to the larynx, and may be a more significant factor than age with regards to growth of the laryngeal structure.9
In addition to independently pursuing vocal exercises and maintaining good vocal health, trans male singers may also benefit from speech and voice therapy. A Speech-Language Pathologist (SLP) or vocal coach can develop a custom vocal training program that's centered around their clients' goals. They can also identify limitations of the changing voice, helping clients recognize the symptoms of vocal fatigue. While it's important to continue singing through the first year on T—cracks and all—it's even more important to avoid doing damage to the developing voice.
For trans men who have already had several years of testosterone therapy, vocal coaching can still be beneficial. Learning proper techniques for breathing, and opening the diaphragm and larynx, can substantially improve singing abilities.
If you choose this route, look for a SLP who has experience working with transgender people. Not only should they possess in-depth knowledge of speech/voice science and speech masculization treatments and therapies, but the ideal SLP also understands transgender basics (terminology, trans sensitive-protocols, etc.)10
I had been singing all my life, singing is a big part of my family, and songwriting became an integral part of my mental health. When I realized that transition was my path, my voice was the only concern. I set out to find some information about it, and found none. My doctor had nothing conclusive, and most of the transguys I found said that they no longer sang… Not encouraging. But my gut told me that if I could carry a tune before, I could carry one after, and hopefully the tonal quality would be easy on the ears, and I had to move forward. When the voice dropped, the fun began. What I learned is that you just have to keep singing. I had 23 years of muscle memory built up, and that's a lot for any brain to re-learn. It takes time, but it's mostly about finding where your new notes are, which can be fun, funny, frustrating, embarrassing – but you only have to do it once, and in the grand scheme of things, it's a relatively short period of time. Keep singing. If you stop singing, then you won't sing. Simple as that. The world needs our trans voices, and so do our brothers and sisters, and everyone in between. Sing out! — Joe Stevens
T-Voices
I made a personal decision that I would not let the fear of losing my singing voice obscure my path to transition. Instead, I chose to get excited about how the confidence gained from pursuing my true male identity would positively impact my vocal performance skills. I started with a low dose of testosterone: 50mg every two weeks, increased by 50mg every three months. I knew that testosterone would deepen my range, and I was also prepared for some temporary loss of control. I would need to retrain the muscle memory in my larynx, since shaping the vocal folds and flexing the laryngeal muscles in a familiar way would not necessarily produce the same tone as I was used to. I was advised that practice and patience would help my voice adjust.
Now after 20 months of HRT, the tonal quality of my voice sounds "whiskier" and sometimes I think this has sacrificed clarity but it's also more rock 'n' roll sounding. I didn't expect the loss of projection that I've experienced, but it's returning with practice. Overall, the most difficult aspect of changing my singing voice has been gaining confidence with it again. It's a mental adjustment that encompasses more than just my voice—it's about confidently expressing my new (and not yet fully familiar) identity. All good things in all good time.
Learning to sing again post transition isn't easy, but it can be done. Strengthen and stretch your vocal cords at a comfortable pace. Most importantly, however, be patient and kind with yourself and your voice.
— Joshua Klipp

Photo credit: Amos Mac, 2009
The "unpredictable and irreversible" effects of testosterone on voice can inject significant doubt into the decision of whether or not to pursue HRT. If testosterone is in your cards, remember that the "no guarantees" clause applies both ways: it's not inevitable that you will lose your singing voice! Gradual administration of T, speech-language therapy, vocal exercises, maintaining good vocal health, and regular practice will all help ease the transition. And who knows? This woman claims that testosterone is the reason behind her incredible 8-octave range. Maybe you'll be just as lucky!
More Trans Male Singers
Choirs with Trans Men
Additional Resources
Speech-Language Pathologists with Transgender Experience
Footnotes
Medical Therapy and Maintenance for Transgender Men: A Guide for Health Care Providers
R. Nick Gorton MD, Jamie Buth MD, Dean Spade Esq., p. 59
Body Alchemy: Transsexual Portraits, Loren Cameron, p. 38
Changing Speech, Shelagh Davies and Joshua Goldberg, p.6
The Changing Female-To-Male (FTM) Voice, Alexandros N. Constansis, para 17
Acknowledgments
Thanks to Radford Bishop, Joe Stevens, Joshua Klipp and Lucas Silveira for contributing to this article. Special personal thanks go out to Joe and Lucas for providing me with very helpful advice and inspiring me to keep singing.
Last updated: 10/05/17