For many transgender men, being able to stand to pee (STP) is an important rite of passage that can help relieve some of the emotional and physical discomfort of being trans. Adopting this socialized male behavior can be liberating and make one feel more whole and complete.
Of course it's certainly acceptable to opt for a stall instead of the urinal, and lots of cis gender men sit to pee, especially at home. However, they have the option of whipping it out at a urinal when the need arises. The simple fact is that not all men's rooms have a suitable stall. You'll often find it in a sorry state of disrepair, with the door precariously hanging off a single hinge, or worse, no door at all. This can be extremely distressing for the trans man who doesn't STP.
Thankfully, there's a wide range of products that trans men can use to STP. These range from do-it-yourself solutions that cost nothing to more elaborate pack 'n' pee prosthetics. This is a fairly individualized art and learning to STP usually requires a little training at home and sometimes trying out several STP devices before you find one that gets the job done.
There are a few downsides to trans male STPing, such as the expense of buying STP devices, jockstraps, sock jocks, suspensories and other harnesses, having to keep your STP device clean and preventing urinary tract infections, and for some, switching to briefs. Also, depending on physiology, skill and focus, STPing can be unhygienic. Don't believe it? Just ask the Mothers Against Peeing Standing Up whose mandate is to "prevent unnecessary urine stream fragmentation."
So, why do men STP anyway?
Well, squatting in a urinal would surely get some looks!
There's a Baptist Pastor who claims that men in the Bible are specifically identified as people "who pisseth against the wall," distinguishing them from women. It's dictated by scripture people: STP is a god-given right!
Even though many cis gender men sit, and the men's room is not a particularly discriminating venue, there's a certain segment of society that thinks sitting to pee is effeminate and not what "real men" do. In Standing While You Pee: The Last Bastion of Masculinity? Klaus Schwerma asks,
Is standing-while-peeing an act of masculine identification, a symbolic exercise of power, an exercise of patriarchal power against women, a demonstration of the claims of masculinity and (phallic) male fantasies? Is standing while you pee an expression of masculinity?
Feminists have weighed in on the subject of STP too. Ten years ago, women in Sweden, Germany and Australia pushed to have all urinals removed from public restrooms. This was due in part to concerns about hygiene but "more crucially because a man standing up to urinate is deemed to be triumphing in his masculinity, and by extension, degrading women." Oy!
Unraveling the ties between STP, masculinity and feminism is outside the scope of this article though, so let's proceed.
How to STP
Perhaps the first place to start is seeing if you can STP without a device. Nathaniel of transboys.info has preserved a helpful brochure on the subject. Check it out here: How to Pee Standing Up.
Learning to STP with a device takes some practice, and it's a good idea to master the technique before strutting up to a public urinal. Start by practicing in the shower or while standing in your bathtub. When you're leak-free and confident, move your training to the toilet. For those who aren't using an STP packer, think about how you will carry your device, how you will discreetly setup with it, and how you will clean it when you're done. Be patient. As vlogger and blogger charlesasher explains, learning to STP can be frustrating.
STP Devices
DIY STP Devices
The "Coffee Lid" STP is a free, simple and convenient solution. Simply take a large plastic coffee can lid or equivalent (ie. lids from yogurt, cottage cheese, etc.) and trim the edges off so that you're left with a flat disk. For smoother edges and more comfort, you can sand the edges with fine grain sandpaper. When you're ready to use it, roll it into a funnel and simply pee through it. Urine will bead up on the plastic so a vigorous shake will render the disk dry enough to slip it into your back pocket. Free, simple, convenient, though not entirely urinal friendly and perhaps better suited to STPing in a stall.
The Medicine Spoon is a cheap and effective plastic device you can buy at any pharmacy. You'll find several designs with different sized spoons and tubes and varying plastics, but they all work the same way. You pee into the spoon end. Cut the other end off to provide a hole for the stream. The Medicine Spoon is small enough to fit into your pocket, cheap and is the basis for most STP packer designs, meaning: master the spoon and you'll master most STP packers.
If you're good with your hands, consider making your own STP packer. You'll find complete instructions and helpful tips in the video Make an Ee-zee Pee-zee STP Packer as well as Charles' Take on STP Devices:
Trans guys on YouTube have posted a ton of videos on DIY STP methods and designs using a variety of materials such as latex tubing, laboratory pipettes, and silicone baking sheets. Watch this Playlist of DIY STP videos for more details.
Also check out these guys' pages for other DIY STP ideas:
Commercially Available STP Devices
The Magic Cone is a disposable, biodegradable, waterproof cardboard cone that's quite portable. 3 for $3.95 or 9 for $11. Note: The original merchant (whenyagottago.com) is now offline. You can still get the Magic Cone direct from the manufacturer.
The TravelMate is similar to a medicine spoon. This is a reusable, inexpensive and popular STP device that's often used to make STP packers. Winner in the 2001 Medical Design Excellence Awards competition. $12.95 each.

The GoGirl is an unfortunately named STP that's very portable and inexpensive. The soft silicone does call for extra care during use to prevent leakage. $12.95
The SNEE-KEE is a reusable and portable plastic STP. Skin tones aren't available yet. $12.95
There are a number of STP devices that work well and are easy to use but aren't particularly portable. You can carry them in a knapsack, but not in your drawers. As such, they offer limited value to trans men. They're included here for completeness, and also to help give you ideas about making your own devices.
Read a comparison review of the pStyle, Whiz Easy and GoGirl.
STP Packers
STP-Fitz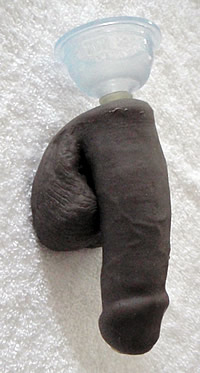 STP-Fitz is a new FTM-owned business based in the United States. After spending too much money on products that didn't work and peeing on himself in public more times than he cares to remember, Michael Fitz started experimenting with various materials and designs in an effort to develop a device that would allow him to STP with confidence and in comfort. After seeing a video on YouTube where a vlogger suggested a baby bottle nipple instead of the coffee can lid STP, Michael bought a Good Vibrations "Sailor" Soft Pack, some tubing, and various baby bottle nipples and started playing around until he arrived at his final design. The baby bottle nipple STP-Fitz is his flagship product and there's nothing else like it on the market. He also makes STP packers with medicine spoons and his products are available in 4" and 5" sizes, in vanilla, latte or chocolate colors. Prices range from $45 – $65. US domestic and International shipping cost is a flat rate of just $8.
Profits from the sale of STP-Fitz products presently go toward Michael's top surgery fund. He plans to grow the business beyond his own needs and hopes to help fund other guys' surgeries as well. In Michael's words, "The transgender community, in my experience, doesn't have a lot of 'throwaway money,' and in this economy I see so many of us struggling to put food on our tables and keep a roof over our heads. It bothers me that I can't do anything to help…yet. Through STP-Fitz however, I hope to be able to assist in funding other transgender people's surgeries."
With STP-Fitz, you can STP with confidence and can pack all day in total comfort. Plus, buying from STP-Fitz is a win-win situation: You get one of the most innovative STP packers ever made, and you help Michael reach his goals of surgery for himself and other trans folks. Check out his full line of STP packers at STP-Fitz.org.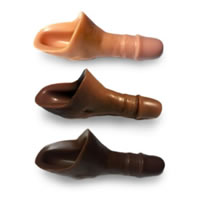 New! The Realistic Silicone STP by Number One Laboratory is made from a single piece of silicone that's both durable and pliable and results in a lightweight, comfortable STP device. The realistic design enables stealthy use of urinals. $58
Want a FREE Number One STP? Enter to WIN by June 15, 2013!
Stand to Pee by Home Grown is a medicine spoon with latex tubing that will fit into your packer. It's not clear on the website but it appears that the packer is not included. Ships from Australia. $30.
FTM STUD is another STP packer design that comes in two dick sizes, as well as three varying sizes for the spoon. Unlike other similar STP packers, the FTM STUD's spoon is coated with a special rubber coating for comfort. The FTM STUD uses latex tubing for a softer appearance to your package. $40 – $45.
Pee3 by DJ Knows Dick is a popular STP packer that features a medicine spoon, tubing and packer. $35 – $65
Man-go Pack n Pee Prosthesis is another STP packer with a unique spoon shape, tubing and packer. $69.95 – $74.95
STP Packer Reviews
Conclusion
Whether or not one STPs is certainly no measure of the man, but for those who want to, or find themselves in situations where they have little choice, the wide range of STP devices available can help solve the logistical problems while also alleviating some of the anxiety that many guys feel around public bathrooms.
We'd love to hear from you if you have suggestions for STP designs or techniques, comments on the devices you've tried, and especially if you're aware of more International options for buying STP devices and STP packers. Please leave us a comment below!
Further Reading
Unless otherwise noted, all prices are in USD. Convert to your currency with xe.com.