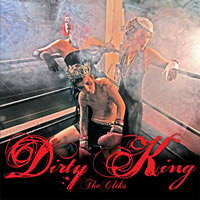 At a time when indie music is awash in neo-psychedelia and dance pop, The Cliks' Dirty King is a satisfying return to classic rock and post-punk roots. Clean, substantial, evocative without being derivative, the album moves from the familiar territory of Snakehouse to a more comprehensive, sophisticated sound.
In a recent interview, lead singer Lucas Silveira confessed that the band wrote the songs for Dirty King in fewer than two months, on the heels of an exhausting tour. In the midst of touring, relationships were unraveling, and Silveira is pictured on the CD cover as a deposed, but not yet down-for-the-count, king. His expression is grim but resolute. His surgery scars are fresh.
It's not easy to growl without sounding like you're trying too hard, but Silveira manages to pull it off (as he did on Snakehouse). His voice has matured, and it weaves, full-bodied and effortlessly, through this dark psychological landscape. The musicianship on Dirty King is impressive and fully actualized. Driving melodic guitar provides the spine for a body of work that is still flexing its muscles. For all the reported creative differences, this was a band that resolved to gel while on stage and in the recording studio.
But Silveira's voice remains the most important instrument on the album, at times channeling Patti Smith, Jim Morrison, and Chrissie Hynde. Enigmatic lyrics, at once confessional and private, disclose simmering anger and losses turned inside out. The theme of betrayal makes another appearance here (the band's cover of Justin Timberlake's "Cry Me a River" on Snakehouse brought them instant mainstream attention). On "Love Gun," Silveira sings, My heart goes boom / your indiscretion / fills the room / like a mistake / a jaded vow ready to / break. "Falling overboard" is another song about dissolving ties, and Silveira's voice is a drawn-out, mournful caress, an expression of the difficulties of letting go.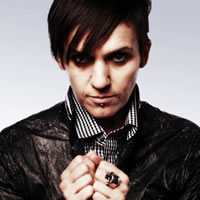 Prepare to be caught off guard, however. This is no siren song. Dirty King breaks you in with familiar musical terrain but the tone shifts quickly on "Not Your Boy." These songs are catchy and radio-ready. "Henry" and " The Wolverines" are immediately recognizable, a hearkening back to genres the current music scene is now ready to revisit. "Emily" is a Beatlesque waltz, and it's a dance you never want to end. As a result, this album is likely to expand the band's fan base. In particular, listeners of Green Day, the Yeah Yeah Yeahs, and (of a different generation) Cheap Trick will find welcome additions to the family here.
Albums that showcase artistic development are one of the rewards for loyal fans. The ranges of inspiration and mastery on this sophomore effort are astounding. Shades of 1970s rock, grunge, punk and 1980s power ballads all make an appearance here, with Silveira's voice providing the consistency of a steady hand. The album doesn't seem so much a groping for meaning as much as a granting of permission to explore instincts. When Silveira follows his instincts as a songwriter, the instincts are good, albeit surprising. From the slow, grounded seduction of the album opener, "Haunted," to the final number, the stunning and unfettered "Animal Farm," Dirty King is a fight for identity you want to support.
The Cliks: Web | MySpace | Twitter | Facebook | Lucas' Blog
Win a Free Dirty King CD!
TransGuys.com is giving away three copies of Dirty King by The Cliks! Winners also get an 8×10 autographed glossy of Lucas Silveira! Enter to win!
Video for "Dirty King"