ze·nith /ˈzēnəTH/
The highest point reached by a celestial or other object.
From the sounds of it, New York's power-pop band Tenterhooks are poised for a sonic zenith with the upcoming release of their debut EP "meanwhile…in another part of town."
Tenterhooks is the brain child of Lenny Zenith, a trans guy with an impressive pop-punk pedigree that has roots in the New Orleans and New York City music scenes of the '80s and '90s. The band also includes Scott Campbell (drums), James Pertusi (bass/vocals), and Hiro Suzuki (guitar/vocals.) Tenterhooks' sound is a garagey mix of blistering pop, glam and punk reminiscent of an overdriven Blown Speakers-era New Pornographers. Their debut gig at Hank's Saloon in Brooklyn last fall was standing room only. Produced and engineered by Pertusi, Tenterhooks recorded their debut EP at [the end] studios (Kaiser Chiefs, Dirty Projectors) in Brooklyn and it's slated for a January 2015 release.
Zenith Rising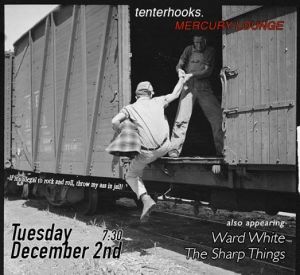 Zenith's pop-punk/new wave band RZA was formed in the late '70s in New Orleans. RZA went on to open for big name acts like U2, Iggy Pop, XTC, and Stevie Ray Vaughn. Throughout the '90s, Zenith and Pertusi were in the critically-acclaimed NYC noise-pop band Jenifer Convertible, whose releases were very well-received. These include the 7″ single "Car Song/Co-Dependency" produced by James Murphy of LCD Soundsystem, and the CD "Wanna Drag", produced by Wharton Tiers (Sonic Youth, Dinosaur Jr.)
Zenith was interviewed by Vice.com earlier this year and more recently by Offbeat Magazine. He stays busy in New York City doing advocacy work for the transgender community. Zenith and RZA will also be featured in the upcoming documentary film about the early New Orleans punk scene, Almost Ready.
How did you navigate your gender identity, both privately and publicly, growing up and playing music?
Even before I was more publicly out, my privacy was respected in the local scene—some people knew, some didn't. But there was still a lot of intensity and anxiety in day-to-day life. My experiences as a transgender person have always informed my work and I continue that work now as an LGBT advocate. When my parents took me to Tulane Medical Center I met some really cool practitioners who just got it, that helped me to accept myself more. As I got older, when I attended NOCCA, I started going out and hearing live music. The energy was tremendous and I decided I wanted to play rock 'n' roll. – Soundcheck: Lenny Zenith Takes 5
Tenterhooks plays tonight at the Mercury Lounge in NYC.
tenterhooks.nyc | tenterhooks.bandcamp.com | facebook.com/tenterhooksband
(Photo credit: Bryan Holland)