The Choice for DIY Enthusiasts
The Full Monty Packing Harness is a common design that you'll find out there in a few variations. It's inexpensive and easy to make if you have some basic sewing skills, plus there are a few vendors who sell ready-made versions of this popular harness style.
To make a Full Monty Packing Harness, follow these simple instructions. For supplies, all you'll need are some lengths of 1/2″ and 1/4″ elastic, and sewing thread, both of which you can find at a fabric store for less than $10.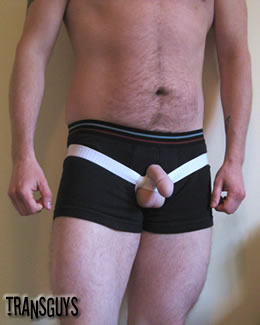 A couple of years back, I bought a Full Monty-style harness for $15 USD from the now defunct, FTM Solutions. The harness is comfortable enough, though I find that the leg straps sometimes get twisty, leaving me aware that I'm "strapped." I like that I can feel the packer next to my skin with this harness, and that it feels well secured. After minimal use though, I noticed that the stitching connecting the waistband together was coming loose, which made me nervous for fear of it coming apart and causing an embarrassing situation. So, if you're making one of these for yourself make sure your stitching is pretty heavy duty.
Also, a warning for those who don't STP: be careful when you drop your drawers that you don't also pull down the harness. In other words, whiz with the harness in place because if you accidentally pull the harness down too, you're likely to lose your packer to the floor. Uh oh!
This harness style works particularly well with the lightweight Mr. Limpy packer, while other packers are just too heavy for the design. Mr. Limpy will stick straight out when you put it in the harness, but your pants should squish the soft elastic polymer down so your package appears less, ahem, excited.
Whether you're taking the DIY route or buying a pre-fab version, the Full Monty Packing Harness is an inexpensive solution that works well, especially when paired with the affordable Mr. Limpy packer. Together, these make very decent packing package that's also STP-friendly.
Where to Buy
With FTM Solutions now gone, I'm not aware of a vendor selling the original Full Monty design, but there are a few variations available out there:
Notes: Unless otherwise noted, prices are in USD. For obvious reasons, the harness is shown worn over underwear though most will prefer it worn underneath.
If you know of other places where you can buy the Full Monty style packing harness (is anyone on YouTube selling them these days?), if you've tried this style of harness, or if you have another DIY design you favor, please share your comments below.
The Great Packing Harness Roundup