New, Exclusive Design Puts Comfort, Function and Fun First
For Part 3 of The Great Packing Harness Roundup, I'm pleased to present a review of a brand new entry in the world of packing harnesses, the Tool Belt, available exclusively from Tool Shed Toys. This product is so new in fact that it's not yet in mass production, so you're getting an early look here at this fresh and unique design concept.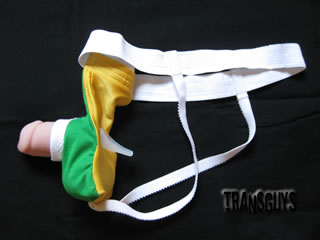 At first glance, the Tool Belt appears to be another jock-style packing harness, with leg straps providing extra security by keeping your junk in place, but the similarity to other harnesses of this nature ends there. First off, the Tool Belt is comfortable, and I mean really comfortable. I've worn guys' underwear since I was a young child, so I admit that I raised an eyebrow at the more feminine-looking leg strap elastic, but I have to say that these straps are a big reason why this harness is so comfy. One of the comfort tests that I put packers and harnesses through is a 1-hour hike and the Tool Belt passed with flying colors. I barely notice I'm wearing it. Plus, the leg straps are… adjustable! Harnesses are typically sold by waist size alone, failing to take into account different body sizes and shapes. The leg straps on the Tool Belt are sewed in a loop around the waist band, allowing them to be easily adjusted for an optimal fit.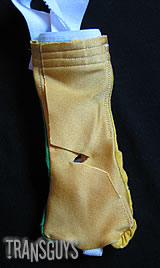 As one of the only harnesses that's STP compatible, the Tool Belt also scores big points for functionality. As you can see in the photo at left, there's a specially designed opening in the back of the "cage" to allow for a STP receptacle to pass through it. This thoughtful design should please the "snow writers" out there.
The Tool Belt currently comes in two color configurations: Purple Camo and the Packer-Backer. I love the bright green and yellow of the Packer-Backer—I feel like I'm suiting up to play for the '74 Athletics when I put it on. (The harness colors are a tribute to the Packers football team, but I'm a baseball man. No disrespect intended, Packers fans!) It's a subtle bonus, but the fun factor takes some of the sting off my disappointment at having to pack in the first place, and makes the Tool Belt feel like just another piece of clothing—instead of "transition wear."
Putting a packer in the Tool Belt is a little like fitting a dog into a sweater, so I recommend doing this before putting the harness on. Developed in collaboration with a professional Lingerieist and Corsetier, the stitching and construction of the Tool Belt are sturdy, but it's always wise to be gentle to avoid accidental tears and to keep your harness lasting longer.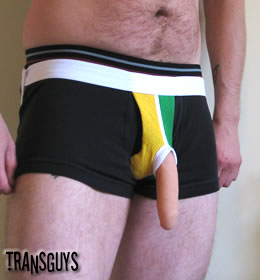 The Tool Belt's ball cage has a low hang, which facilitates STPing. However, my testing suggests the problem of balls wedging between legs could be an issue for guys who wear loose boxers. The problem is mitigated by tighty whities and more form fitting boxer briefs and trunks, all of which should provide just the right lift to keep your balls out in front.
The Tool Belt comes in four sizes: Small fits waist sizes 28-31 inches, medium fits 32-35 inches, large fits 36-39 inches, XL fits 40-43 inches.
Currently in a limited edition run with larger quantities on the way, retail pricing for the Tool Belt was not available at press time.
Note: For obvious reasons, the harness is shown worn over underwear though most will prefer it worn underneath.
Do you use a STP-friendly packing harness? Please share your comments below!
The Great Packing Harness Roundup