"There's wisdom in here, real honesty, feelings that aren't shared casually… Every contribution to this book has a power and a grace all its own, and together they are timeless." – Jamison Green, author & educator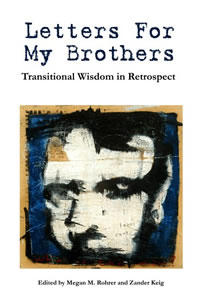 Letters For My Brothers is an anthology of essays written by post-transition men who share the wisdom and guidance they wish they'd known at the beginning of their journey into manhood. Inspired by the pioneering work of Lou Sullivan, Letters For My Brothers is an essential collection that's highly recommended for trans men as well as our allies.
While the Internet is a great source of information, some of the most profound advice about transition can only come in retrospect, and experienced mentors are not easy to find. I've certainly found this to be true: I live in a remote community and I don't get very many chances to talk one-on-one with other trans men, which leaves me to Internet searches as my main source of guidance. Every year, I travel to Seattle for the Gender Odyssey conference for that all-important face time with other trans folks, and it was at the 2011 event that I picked up a copy of Letters For My Brothers. Of the stack of books I bought that year, LFMB was the first one I cracked and I consumed it with rabid enthusiasm, starved for the insight in its pages.
The essays reflect diverse experiences, perspectives and identities. They tackle tough issues like self-doubt and self-acceptance, male privilege, and family and relationship struggles. They also provide inspiration, hope and empowerment. Transition is so highly individual and readers may not identify directly with each author, but LFMB offers so much that few, if any, will come away unsatisfied.
Win a FREE copy of Letters For My Brothers!
TransGuys.com and the editors of LFMB Zander Keig & Megan Rohrer have teamed up to offer a special book  giveaway. Enter to win!
The list of contributors is a who's who of respected trans men, including well-known authors Jamison Green, Aaron Devor, and Matt Kailey, alongside newer, up-and-coming stars of trans lit. It's clear that each put considerable thought and compassion into their essays, amply living up to their roles as "paperback mentors."
Letters For My Brothers is a book that's the first of its kind, filling a critical need more than admirably. This 2012 Lambda Literary Awards Finalist is the #1 book I recommend to other trans guys, regardless of where they are in transition. I've gotten so much out of it, and I think I'm due for a third reading!
Have you read Letters For My Brothers? Leave your comments below to share your impressions of this book.
Letters For My Brothers: Transitional Wisdom in Retrospect. Edited by Megan M. Rohrer & Zander Keig. 2011 Wilgefortis. Available in paperback, as well as Kindle and ePub formats. 20% of proceeds from book sales are donated to FtM Mentors.
Contributors: Jamison Green, fAe Gibson, Cristopher Bautista, Chase Ryan Joynt, Malcolm Himschoot, Lou Sullivan,  Reid Vanderburgh, Aaron Raz Link, Elliott Anthony Brooker, Aaron H Devor, Patrick M Callahan , Zander Keig, C.T. Whitley, Raven Kaldera, Tucker Lieberman, Lyle Blake, Keith Josephson, Evan Anderson and Matt Kailey.
More about LFMB:
Also see: TransGuys Book Shop