TransGuys.com's inaugural product review takes an in-depth look at three different FTM packers: The Packy by Fleshlight, Mr. Right by Vixen Creations, and David by Lola.Jake.
Also see: The Packer Showdown, Part II – Sailor Soft Pack vs. Pack-Man
Packing is a pretty personal thing, and not all guys looks for the same qualities in a dick. For that reason, The Packer Showdown didn't set out to find a "Best in Show" FTM packer. Instead, it simply highlights each of the packers' pros and cons and lets readers to decide what's important to them.
The Packy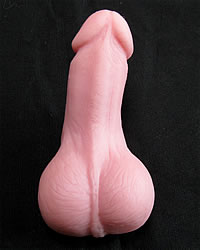 The Packy is a generic packer that you'll also find under the names of Soft Pack, Mr. Limpy and Mister Softie. It's made from a realistic, proprietary elastomer (elastic polymer) blend called Real Feel Super Skin™ (aka Soft Skin, Cyberskin.) Regardless of the model and material name, these are all the same product, manufactured by Fleshlight. The Packy is available in four sizes (3.5″, 5″, 6.5″ and 8.5″ length, and all with 4″ girth) and three colors: Pink, Fleshtone and Caramel.
The Packy can be worn with a harness, or in tight briefs without a harness. It works particularly well with the FTM Solutions strap. It's a little too small for the Aslan Packing Strap: because the balls don't perfectly fill the Aslan pouch, the shaft bends over the front strap and eventually leads to wear of the packer. Despite this less than perfect fit, the Aslan is still a comfortable option.
At 3.5″ and just 5.75 oz, the small, lightweight Packy provides a comfortable and discreet bulge. The shape and detail of the glans is quite good, given the budget price. The symmetrical balls are detailed with creases but are not very realistic looking (the word "novelty" rings true here.) The material is sticky, but with a dusting of potato starch or baking soda becomes very soft. This inexpensive packer is a great choice for making a STP device with.
On the downside, The Packy's squeeze is a little too squishy. The color can be inconsistent model to model: sometimes quite pale, sometimes overly pink. Also, there's no variation in color between the shaft and glans, and the balls are flat-backed. You can find The Packy for under $15 at several outlets, but don't expect it to last forever. The soft material can degrade pretty quickly, with regular use leading to small cracks within a couple of months.
The Packy offers great bang for your buck. It's a comfortable packer to wear and creates a bulge that won't cause unwanted attention.
The Packy wins the TransGuys.com Best Head Award!
Buy online: Fleshjack – Mr. Limpy $12.95 – $18.95 USD (4 sizes)
Mr. Right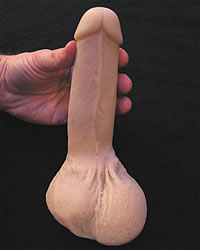 Mr. Right is a VixSkin™ silicone packer made by Vixen Creations. It's available in pink, caramel and chocolate colors, and comes in one size: 6″ long x 4″ girth. Most descriptions of Mr. Right state the length as 4.5″ – 5.5″, but base to tip, my model comes in at 6″. There was a previous model that was smaller and softer.
Mr. Right weighs in at 7.5 oz and fits perfectly in the Aslan Packing Strap (which was designed for Mr. Right.) It's a little too heavy in the FTM Solutions strap. The material is less sticky than The Packy, but still benefits from a light dusting of potato starch to make it softer. Mr. Right can be modified into a STP device, but the longer shaft and higher cost make it less suitable than The Packy for this purpose.
The bulge is more obvious than that of The Packy, due to the extra length, but not offensively so. The detail of the shaft is nice, but with Mr. Right it's all about the balls: the detail of the scrotum, with it's two differently shaped and positioned balls, is superior looking to anything else this reviewer has come across. Plus, the firmer silicone makes for a great squeeze.
The "pink" Mr. Right that I reviewed was more of a greyish, beige tone, and it doesn't look realistic. The bland shape and size of the glans further suffers from being the same lifeless color as the shaft. Those fantastic balls are sadly flat-backed (though if you wear Mr. Right with the Aslan Packing Strap you wouldn't feel round ones anyway.)
Mr. Right is a mid-market packer that's durable and should satisfy guys looking for a mid-sized bulge. While the aesthetics of the cock itself are lacking, Mr. Right's balls pack some serious punch.
Mr. Right wins the TransGuys.com Best Balls Award!
Buy online: Babeland – $60 USD
David

David is a premium packer made exclusively by Lola.Jake, a 2-person owned company based in California. In 2007, their parent company Too Sticky bought out PNP Prosthetics and launched Lola.Jake as a manufacturer of custom-made FTM prosthetics. They corresponded with trans men for more than a year about the development of their product line, and continue to collaborate with customers on new features, such as 3D balls and foreskin.
All Lola.Jake models are made of a blend of five platinum silicone materials, the premium in prosthetic manufacturing. Each prosthetic is hand poured into a mold, cured for several hours, then carefully painted with details such as a darker glans and veins on the shaft. As much as 15 hours of work goes into each prosthetic. Lola.Jake is looking at automating some of this process, which would allow them to lower prices. Also worth mentioning is Lola.Jake's exchange program which rewards customer loyalty with a 30% discount towards a new prosthetic for their returned model.
Lola.Jake currently have patents pending, and are poised to expand into a larger market. They continue to research and develop their product line with the goal of creating the ultimate prosthetics for trans men.
Like all Lola.Jake models, David is available in four colors: vanilla, caramel, coco and espresso. It's a smaller packer, measuring 3.5″ long with a 4.75″ girth and weighing 6.5 oz. David creates a nice bulge that's not too big and not too small. It's slightly larger than the bulge of The Packy, mostly because David's shaft rests directly on top of the balls, while The Packy is more easily adjusted to the left or right. The weight of David feels perfect.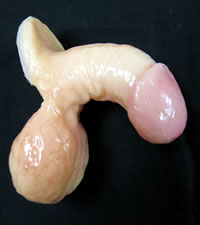 David comes with a tab that enables you to affix the packer to your skin with a medical grade adhesive. This tab is not ideal if you plan to wear David with a strap: it creates a bit of an awkward bump above your bulge. However, Lola.Jake can easily customize this on request and create your David without the tab. Just ask!
David's silicone blend creates just the right amount of firmness for a top notch squeeze. Worn in the FTM Solutions strap, you can feel David's 3D balls swinging slightly against your inner thighs. You won't get this sensation from a budget packer! The connection between the balls and shaft looks durable and feels amply thick. David has a larger head than both The Packy and Mr. Right, with a nice ridge. More importantly, David's glans is painted a different color from the shaft.
You could turn David into a STP device (and there's a 2″ hole already started in the back from the manufacturing process) but it's a rather expensive model to start poking holes in. Ask Lola.Jake to customize your order with a longer hole if you plan to convert David into a STP device.
At first, I was taken aback by David's shininess. Applying potato starch didn't help—the starch just streaked the shiny surface with powdery smears. Apparently, the shininess goes away with time though. As for color, I have yet to find a packer that is realistic in this regard. Like other packers, David is lighter in color than your average dick, which is usually several shades darker than the skin on the inner thigh. Despite the subtle hand-painted detailing, the texture of the balls lacks the realism of Mr. Right's superior looking scrotum, and the shape and size of them are a little too symmetrical.
Lola.Jake's David bridges the world between toy store novelty packers and medical grade prosthetics, and has features you won't find on other packers. Price wise too, David sits somewhere in the middle: more expensive than the average packer but significantly less than other prosthetics. When you've already tried the cheaper packers, consider graduating to a David to experience the swinging round balls and the unique, lifelike firmness, and get the customization you can only get from a company that makes FTM prosthetics to order.
David wins the TransGuys.com Best Squeeze Award!
Buy online: Lola.Jake – $355 USD
Win a Free Packer from Lola.Jake!
TransGuys.com and Lola.Jake have teamed up to giveaway TWO Billy packers! (And these aren't your average pant stuffers…) Enter to win!
More Packers
Good Vibrations "Sailor" Soft Pack – see review
Super-realistic looking and feeling, the Sailor Soft Pack has slightly firmer inner core that allows for more rigidity to the shaft, resulting in a more realistic feel. It's available in two sizes: 4" long, 1 3/8" in diameter; and 5" long, 1 3/8" in diameter. Plus, there are three colors to choose from: Vanilla, caramel or coffee. Buy it online from Good Vibrations for $24 USD.
Pack-Man – see review
This is an affordable, durable 3″ packer that's available in three colors.